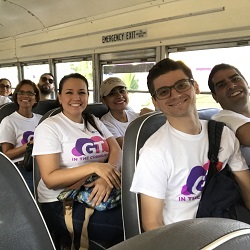 At 8am on Thursday 11 January, all 125 Grant Thornton Kevane people set aside their work, bundled into buses and drove 30km across devastated Puerto Rico to Loíza.
Loíza is a deprived community on the north-eastern coast that was seriously affected by Hurricanes Irma and Maria.
Like many towns in Puerto Rico, Loíza is still without power – five months after the worst hurricanes in the country's history destroyed homes, caused widespread flooding and knocked out the power supply. Many services avoid Loíza because of the social issues prevalent there, and the help that did arrive after Hurricane Irma was undone by Hurricane Maria.
But "the future of our country is the kids" so Aida Ramírez, partner and head of audit at the firm, and María de los Angeles Rivera, partner, head of taxes and International Business Centre director and their CSR committee, picked the run-down and damaged community centre as the focus of their efforts.
Christmas is a very big occasion on the island and Kevane Grant Thornton would usually organise a big party, but they decided to save the money and use it to make a real difference.
The team spent the morning cleaning, painting and renovating the centre and its playground, and the afternoon giving out food packages and spending time with the community – "they thought we were like angels".
Together we make a difference
This was all possible because together the firm decided to make a difference. Although some Grant Thornton people suffered considerable damage to their properties, they recognised how much luckier they have been than many of their fellow Puerto Ricans. Many Grant Thornton people were volunteering individually, but Aida and María had an idea: "If we came together rather than acting alone, we could achieve more."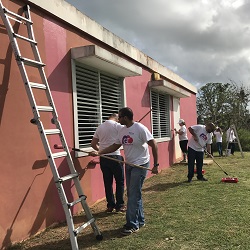 Continuing support
The resulting work in Loíza has been fantastic. Often volunteering means visiting a place once and never coming back, but the firm has identified an area in need and is committed to long-term support. "We are making a difference to the community and helping Puerto Rico."
To make sure the firm provides the services its 'adopted' community really needs, a group of employees were commissioned to interview the local people to share their experience and as a way to obtain information about their needs.
And by coming together, Aida didn't just mean the firm's 125 employees, but clients too. One client the firm has a long-standing relationship with owns a food warehouse. With this client's support the team prepared the 100 food packs they distributed on the day.
Now they are planning a post-Christmas clear out and will donate items in good condition to families in Loiza. And beyond that, the firm has a whole year of initiatives planned and Aida and María will continue to call on their clients to pitch in where they can.
"We are living our values – responsibility and collaboration. As a firm we are working to be responsible and giving back to the communities who need us."