GrowthiQ
The Indian opportunity
Aston Manor Cider, one of the world's largest independent cider producers, is no stranger to the export market. The UK-based company's specialty beverage is available in more than 20 countries including the USA, Russia and a number of African nations
Not for profit

Home
Not for profit
Why measuring impact is vital
The global charity sector is having to adapt in a fast-moving world. Resolving the current situation is not without its challenges.
GrowthiQ
Is Nigeria set for a tech surge?
2016 was a year of firsts for the Nigerian tech sector as investment grows.
Travel, tourism & leisure

Home
Travel, tourism and leisure
Business model innovation: hotels' roadmap to 2020
Guests are less loyal and more demanding than ever before. They use online travel agents (OTAs) and aggregators to find the best hotels and deals – which helps operators fill their rooms, but at a cost.
Growing Together in the community is Grant Thornton's commitment to community engagement.
Founded on six guiding principles, it advocates the impact each person can make by being passionately involved in their community. Many inspiring people from Grant Thornton across the globe are already providing innovative, generous and resourceful services to the communities they work and live in, see the videos below for examples of how our people are making a difference.
Video
In September 2016 we had our global CSR event 'Growing Together in the community'
Watch video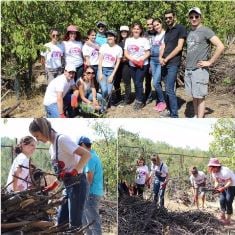 Every year in September all the people of Grant Thornton's big family unite for a common reason - to make a difference in their local communities and to spread this message of unity for better future around the world.
This year, on September 15 Grant Thornton Armenia once again organized a corporate socially responsible event that really made a difference. This time we helped "Bari Mama" NGO, whose main goal is to support infants who are abandoned due to health reasons and orphans with disabilities, as well as to reunite abandoned infants with their biological families.
Currently "Bari Mama" is on the way of realizing its biggest dream – an inclusive center – "Bari Tnak", where professional services will be provided to children with disabilities and their families, as well as it will serve as a shelter for them. Through donations they have already bought a beautiful spot at the outskirts of Yerevan which is waiting to be constructed into one of the kindest premises in Armenia.
Grant Thornton Armenia decided to join this difficult but happy and rewarding task of fulfilling the dreams of many. We are sure CSR is about believing and translating the words and the promises into real actions. Therefore, our team of passionate and enthusiastic people visited the purchased land and supported the advocates of kindness to clean the territory from grass, firewood, trash, as well as carried out some tree care activities. Also we made our small, but important donation to the cause of construction of the center.
Grant Thornton Armenia is proud to be a part of the great dream, which is called "Bari Tnak".